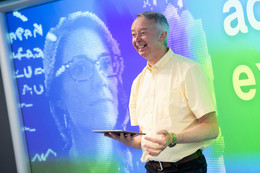 News
The Society for Underwater Technology, The Hydrographic Society in Scotland, and the International Marine Contractors Association held their annual joint seminar this year as an online event.
The world is changing at a rapid pace, energy needs are increasing in parallel with a renewed focus on sustainable operations. The global market of 2020 has so far proven that all industries require the ability to adapt to fluctuating conditions. Technology developments continue to advance to improve all aspects of offshore operations. This brings the possibility to explore further and deeper with longer tiebacks and remote wells. Technology provides efficiency improvements for day-to-day operations, enhancing the sustainability of the offshore energy industry.
As energy demand increases, the transition to non-hydrocarbon sources of energy requires a shift in technology focus.  An established renewables energy industry now allows lessons learned to be shared both ways between hydrocarbon and renewables industries.
Technology developments that are key to the sustainability of energy were discussed across three sessions. Each session set the scene with a keynote speaker and featured the latest developments.  Tuesday 3rd November 2020 – Getting the Subsea Industry to Net Zero; Wednesday 4th November 2020 – Electrification & Alternative Energy; and Thursday 5th November 2020 – Assets & Innovation (Decom, Digital Twin, Life Ext) at which Prof. Richard Neilson, NDC Director gave an introduction to the NDC, including the active research that is ongoing.
Notes for Editors
| | |
| --- | --- |
| Published | Friday November 6th, 2020 |