The NDC can access other state-of-the-art research facilities based on the main University of Aberdeen campus.  Here you will find a brief introduction to some of these facilities with contact details for staff who will be happy to discuss your potential application and requirements.
Whenever the internal structure matters, Computed Tomography (CT) scanning offers a powerful and effective way to access valuable information. Examples include analysis of the biological structures, quality control, corrosion, cracks and flaws, assembly inspection of complex mechanisms and material research across various industries.
The School of Engineering at The University of Aberdeen hosts two high-resolution X-ray micro computed tomography (CT) machines:
Xradia VersaXRM-410 and XT H 225ST Nikon CT
Xradia VersaXRM-410 is ideal for higher resolution images with small sample dimensions.  It can scan a sample size of 300 mm in diameter up to a maximum weight of 15 kg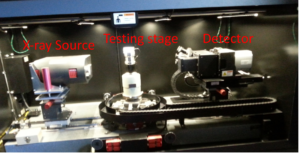 Spatial resolution of 0.9µm,
Maximum source of 150 kV.
Xradia is equipped with an in-situ tensile/compression/bending testing stage. The combination of the CT and testing stage is employed to quantify mechanical damage progression occurring when a material is strained.
XT H 225ST Nikon is ideal for larger sample dimensions. It can accommodate a sample size of 500 mm in diameter with a  maximum weight of 50 kg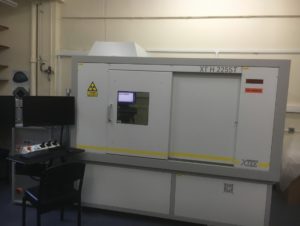 Spatial resolution of 3 µm
Maximum source of 225 kV.
Both CTs can scan almost any materials including polymers, biological materials, natural materials, including rocks and woods, metals and alloys
Scanning ability is directly related to the density of a material in terms of the duration of a scan and also thicker material often takes longer to scan.
In general,  there is no size limit for biological materials however for alloys the size is important.
To discuss your potential application and sample requirements please contact:
Dr Mehmet Kartal at mehmet.kartal@abdn.ac.uk (for Xradia VersaXRM-410)
Dr Stewart Chalmers at s.chalmers@abdn.ac.uk (for XT H 225ST Nikon)